Tuned In London
LIVE MUSIC from all around the world in Rotherhithe, one of the least trodden and most charming neighbourhoods of central London
December 2022
---
Loshn
Friday 9th Dec 2022, 7pm (doors 6.30pm)
Finnish Church, Rotherhithe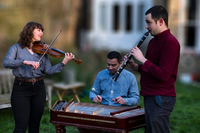 Loshn present an exciting new collaboration between Anna Lowenstein and John Macnaughton, two of the UK's leading Klezmer musicians, and virtuoso cimbalom player János Kállai. With violin and clarinet, together the three play Klezmer music that sings, speaks and dances with the tradition's distinct Yiddish accent. With a repertoire that spans more than a century, they present a beautiful and varied programme from the music's roots in pre-World War One Eastern Europe, to 1950s America and beyond. With the cimbalom newly integrating into the trio, Loshn are currently the only Klezmer ensemble in the UK to incorporate this beautiful instrument. We bring you this concert in collaboration with the London International Arts Festival, curated by Indian violinist Jyotsna Srikanth.
---
Introduction to South Indian Carnatic Music
Fri 9th Dec, 5.45pm-6.45pm
Finnish Church, Albion St, Rotherhithe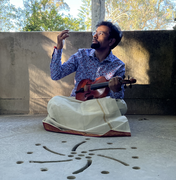 Srikanth Sharma presents an interactive workshop on understanding the basics of South Indian Carnatic Music. Srikanth is an Indian classical-Carnatic singer and violinist with a flair to communicate both the art of learning and presenting music. He is a musicologist and an author, writing the second book on the pedagogy and propagation of Indian classical music. With a Masters in Music from Bangalore University he has an in depth understanding of the many literary works, both contemporary and early works. He has been mentoring musicians in India and the UK for over 2 decades. No previous knowledge of Carnatic music is necessary. This workshop, like the Klezmer concert that follows it, is part of the London International Arts Festival curated by South Indian violinist Jyotsna Srikanth.
---