TUNEDIN.LONDON
LIVE MUSIC from all around the world in Rotherhithe, one of the least trodden and most charming neighbourhoods of central London:
MAYFLOWER 400th ANNIVERSARY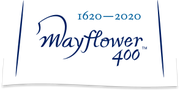 400th ANNIVERSARY SPECIAL extended edition:
With some COVID19-induced changes to the intended 2020 programme, Tuned In London, in collaboration with the duo One Voice, One Cello and a Mad Belgian, nevertheless succeeded in presenting a concert marking the anniversary of the
Mayflower Ship
leaving Rotherhithe's shore, captained and crewed by Rotherhithe residents. With the resounding success of this special sold-out Memories of the Mayflower concert of original music, we invite the duo to return with American narrator Nathan Osgood, for a repeat event, to tie in with other anniversary events happening across the country and to celebrate the launch of the album of their live performance.
Thanksgiving Special: Memories of the Mayflower with One Voice, One Cello and a Mad Belgian
Sun 21st Nov, 3pm (doors 2.30)
Dutch Church, 7, Austin Friars, City of London
Tickets are free of charge, reservation required. Donations on the day will be gratefully received.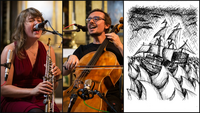 After two sold out performances at St Mary's, Rotherhithe, 400 years since the very first Thanksgiving meal shared by Wampanoag Native Americans and the people who had crossed the seas (many started their journey in Holland) in treacherous conditions a year before, we present Memories of the Mayflower composed and performed by this talented duo in the heart of the City of London, in the Dutch Church whose history goes back to 1550, whence a tradition of reciprocal provision of refuge in times of persecution stems. This unique collaboration between British cellist Rupert Gillett and Belgian soprano saxophonist and melodeon player Jennifer El Gammal, both folk singers, jazz improvisers, chamber musicians and storytellers, delivers fabulous renditions with grace, wit and virtuosity. A Song Cycle that, enhanced by actor Nathan Osgood's narration, sets the scene as we slip into the shoes of those migrating adventurers, whose arrival on American shores led to such a significant impact on the indigenous people already there and on those who were to follow. This event is a partnership between Tuned In Events CIC and the Dutch Church.
---
Touki: Amadou Diagne and Cory Seznec
Trio confirmed, thanks to negative PCR test results!
Wed 8th Dec 7pm (doors 6.30)
Finnish Church, Albion St, SE16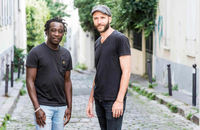 Amadou Diagne from Senegal & French-American Cory Seznec planted the seeds of a future collaboration at a chance encounter busking, weaving musical inspirations that draw on West African, American & Ethiopian traditions. Life took them on different touki (journeys in Wolof), but a decade later their paths have rejoined & their new album, Right of Passage, recorded at Peter Gabriel's Real World Studios, launched a year ago. Kora dances playfully with banjo and guitar whilst the calabash adds powerful, driving beats. Their silky, soulful voices entrancingly envelop the music. A year and a half after we originally were to welcome them here, we invite you to join us on the journey.
---
Leo Power Trio
Thu 27th Jan 2022, 7.45pm (doors 7pm)
City Hope Church, Drummond Road, SE16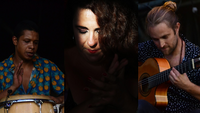 The Leo Power Trio will be taking us on a voyage from Andalusia to South America through a range of sounds within which fit the incredibly passionate rhythms of the flamenco that pulses through her veins, and to which she has dedicated so much of her career. A peppering of Cuban, Mexican, Argentinian and North American jazz standards will add spice to the flavour of the evening. Expect improvisational originality and spontaneity: no one show is ever the same as another, as these masters of their art dexterously weave in new and dynamic nuances and beats each time.
---