TUNEDIN.LONDON
LIVE MUSIC from all around the world in Rotherhithe, one of the least trodden and most charming neighbourhoods of central London:
Leo Power Trio
Thu 27th Jan 2022, 7.45pm (doors 7pm)
City Hope Church, Drummond Road, SE16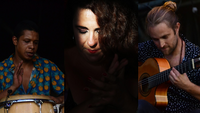 The Leo Power Trio will be taking us on a voyage from Andalusia to South America through a range of sounds within which fit the incredibly passionate rhythms of the flamenco that pulses through her veins, and to which she has dedicated so much of her career. A peppering of Cuban, Mexican, Argentinian and North American jazz standards will add spice to the flavour of the evening. Expect improvisational originality and spontaneity: no one show is ever the same as another, as these masters of their art dexterously weave in new and dynamic nuances and beats each time.

We ask all concert attendees to please do a lateral flow test prior to attending and to please wear a mask when moving around the venue. Thank you