TUNEDIN.LONDON
LIVE MUSIC in the film world's best kept secret:
SANDS FILMS STUDIOS, ROTHERHITHE, LONDON SE16
Tickets: £14
At Sands: Tea & coffee included with your ticket.
Come early/stay late for stronger beverages in the local pubs!
Sands Films Studios, 82 St Marychurch Street, Rotherhithe, SE16 4HZ
SEP-DEC 2016
---
JASON KALIDAS & SIRISHKUMAR MANJI
Autumnal Equinox Special
Wed 21st Sep, 7.45pm (doors 7.15pm), Sands Films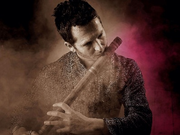 Jason Kalidas and Sirishkumar Manji are renowned for their virtuosity and unique chemistry. On this the eve of the Autumnal Equinox, expect a dynamic night of music exploring depths of melody and rhythm with evocative low pitched Indian bansuri flute and tabla. A performance ranging from deep introspection to exhilarating percussive explorations.
Sirishkumar & Jason on Youtube
---
JASON CARTER
Seeking the Divine UK Tour
Wed 28th Sep, 7.45pm (doors 7.15pm), Sands Films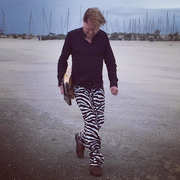 Jason Carter's musical depth & extraordinary style have left an indelible impact around the globe. Touring with his inimitable fusion of world music & classical styles, Jason is a harp guitarist and composer of the highest calibre. Prolific & exceptionally creative, he continually produces captivating and alluring music that is played with humility, passion and exquisite flair.
---
WOMEN IN FLAMENCO: A HOMAGE
Wed 5th Oct, 7.45pm (doors 7.15pm), Sands Films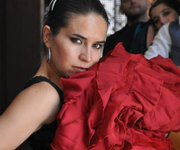 In the intimate and indisputably authentic form of a "tablao", this celebratory show presents an enthralling collection of flamenco "palos"/songs as well as dance spanning from the most traditional to the most contemporary. Accomplished performers Natalia (dance), Leo (voice) and Ramon (guitar) paint passionate scenes portraying women who have marked the history of flamenco.
Natalia Garcia-Huidobro on Youtube
---
MELANGE
Wed 19th Oct, 7.45pm (doors 7.15pm), Sands Films
"Exoticism & sheer vivacity" says The Jazz Mann "plus the brilliance of the musicianship" are what makes the live shows of this quartet so exciting. Cellist Shirley Smart leads Melange who seamlessly blend music from North Africa, the Middle East and Mediterranean, incorporating jazz improvisation and dynamic arrangements.
---
LILY LUCA
Wed 2nd Nov, 7.45pm (doors 7.15pm), Sands Films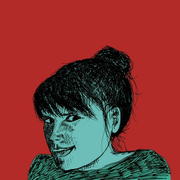 Award-winning Lyon-based singer songwriter Lily Luca is talented with the sketchpad in more ways than one: she paints scenes rich in perceptiveness, rhythm and melody with the words of her bittersweet "chansons françaises" that she delivers with a mischievous charisma. Irony & humour pervade her fine vocals and when she's not singing, she's sketching with pens and pencils… She'll be joined by guitarist Jean de Talhouet and multi-instrumentalist Fred Thomas.
---
ERROL LINTON
Wed 16th Nov, 7.45pm (doors 7.15pm), Sands Films
Brixton-born Errol Linton is three times Best Blues Harmonica player. "This gifted bluesman is one of London's greatest undiscovered talents." (Independent). Expect Chicago Blues and South London lyrics, with reggae lilts hinting at Jamaican roots. By popular demand, Errol is back with his full band.
---
JULIANA YAZBECK
Wed 30th Nov, 7.45pm (doors 7.15pm), Sands Films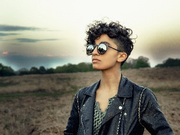 Juliana Yazbeck's mixed cultural background, having been born in New Jersey to Lebanese refugees, influences her music: politically conscious lyrics in both English and Arabic merge with Levantine sounds and hip hop poetry to create a soulful, raw and profoundly sincere performance. Through music she explores uncomfortable truths, connecting with her audience on a beautiful & human level. She is accompanied by Alexis Kraniou on guitar.
---
HIBIKI ICHIKAWA and AKARI MOCHIZUKI
Wed 14th Dec, 7.45pm (doors 7.15pm), Sands Films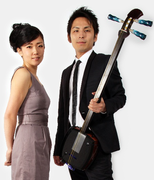 Love, loss, hardship and a nostalgic pining for one's hometown are the subject of the Japanese "enka" and "minyo" performed by virtuoso musician Hibiki Ichikawa (Tsugaru shamisen) and Akari Mochizuki (voice). The marriage of the distinctive rhythms of this unusual instrument with Akari's quintessentially Japanese vocals will transport you to Hibiki's native Tohoku, north eastern Honshu, the main island of this Far Eastern archipelago.
---
Nearest station: Rotherhithe Overground 2 mins
Buses: 381, C10, 188, 47
Info: tel 07595 154601
Join the mailing list: tunedin.london@gmail.com
Tuned In London on Facebook
On Twitter @TunedInLDN