TUNEDIN.LONDON
LIVE MUSIC from all around the world in Rotherhithe, one of the least trodden neighbourhoods of central London:
The Autumn series is likely to feature fewer concerts as we take a little breather... and the location of both concerts as yet confirmed will be:
ST MARY'S CHURCH, ST MARYCHURCH STREET, ROTHERHITHE
Tickets: £14/£10/£8
Come early/stay late for stronger beverages in the local pubs!
SPECIAL GIVE-AWAY:
For this new series the purchasers of the first 60 tickets sold online will have their names put in a hat and will be in with the chance of winning the CD "Via Maris" by the fabulous ensemble Melange, led by cellist Shirley Smart, who last performed with us two years ago.
SEPTEMBER - DECEMBER 2018
---
DUNAJSKA KAPELYE
Sat 29th Sep, 7.45pm (doors 7.15pm), St Mary's Church, Rotherhithe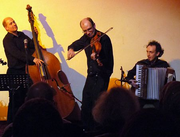 Shot through with searing jazz improvisation Dunajska Kapelye play truly authentic Gypsy and Balkan Folk music taking their listeners on a stunning musical tour of Eastern Europe, where wends the Danube (from whence their name), featuring plaintive Gypsy ballads, tub-thumping Romanian wedding dances, elements of tango and klezmer. Led by Polish Piotr Jordan's many-hued and ever-virtuosic violin-playing, composer and multi-instrumentalist Zac Gvirtzman on accordion and clarinet, and renowned double bassist Paul Moylan, their music is an irresistible fusion of passion and finesse - of dazzling technique and deep emotional impact. Proceeds from this performance will be going to two fertility charities, one of which is celebrating its 25th anniversary this year.
---
HARRIET MACKENZIE and CELONIATUS ENSEMBLE
Sat 8th Dec, 7.45pm (doors 7.15pm), St Mary's Church, Rotherhithe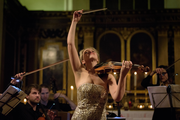 After the phenomenal success of the breathtaking concert this time last year, Harriet Mackenzie and the Celoniatus Ensemble return with a beautiful nature-inspired programme featuring the Baroque masterpiece 'The Four Seasons' by Vivaldi juxtaposed with the heat of Argentinian tango in Piazzolla's 'Four Seasons of Buenos Aires' and the beautifully evocative work by Emily Doolittle depicting a blackbird singing in the rain: eight seasons, birdsong, classical and candlelit...
---
Nearest station: Rotherhithe Overground 2 mins
Buses: 381, C10, 188, 47
Info: tel 07595 154601
Join the mailing list: tunedin.london@gmail.com
Tuned In London on Facebook
On Twitter @TunedInLDN
tunedin.london on Instagram
Sands Films
Privacy policy Terms and conditions