TUNEDIN.LONDON
LIVE MUSIC from all around the world in Rotherhithe, one of the least trodden and most charming neighbourhoods of central London:
SPECIAL GIVE-AWAY:
For this new series the purchasers of the first 80 tickets sold online will have their names put in a hat and will be in with the chance of winning the CD "BON BON" by Dai and the Ramblers, who played a special 4th July gig for us last year.
JANUARY - MARCH 2019
ARSEN PETROSYAN and JENNY BLISS TRIO
Wed 16th Jan, 7.45pm (doors 7.15pm), Norwegian Church, St Olav's Square, Albion St, Rotherhithe
The plaintive voice of the duduk is the iconic sound of Armenian music. In this innovative project, Elizabethan lute songs by John Dowland, haunting Armenian melodies, virtuosic baroque sonatas for violin and theorbo, evocative arrangements of Rumi poetry, jazz and free improvisation will be woven together to create a magic carpet of sounds and stories. Duduk maestro Arsen Petrosyan, from Armenia, will join Jenny Bliss (vocals, viola da gamba, baroque violin, flute), Yair Avidor (historic lutes) and Ben Hazelton (double bass, tabla) for this stop on their UK tour.
---
SENNY CAMARA and RAMON GOOSE
Wed 13th Feb, 7.45pm (doors 7.15pm), St Mary's Church, St Marychurch St, Rotherhithe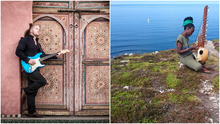 Senny Camara, vocalist, kora and guitar player, spent her childhood in a village in Senegal lulled by the traditional West African music that feeds her soul today. The authenticity and timelessness of her voice convey a captivatingly soulful note to her songs. Now living in Paris, she joins Ramon Goose, undoubtedly one of the most exciting and ground-breaking contemporary blues artists whose old-school guitar rhythms collide and meld with hypnotic grooves and melodies from the Sahara.
Senny Camara and Ramon Goose on YouTube
---
International Women's Day Special: SILVIA BALDUCCI
Fri 8th Mar, 7pm (doors 6,30pm), Finnish Church, Albion St, Rotherhithe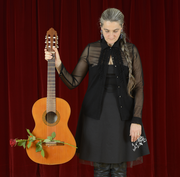 Silvia Balducci, accomplished guitarist, songwriter & activist, has a passion for the New Chilean Song movement of the 1960s & 70s. She breathes new life into work by the great Violeta Parra, whose songs, including "Gracias a la vida", continue to captivate hearts across the globe. The songs of Victor Jara, the 'Bob Dylan of Latin America', who was tragically killed in Pinochet's coup, are revived with a freshness and poignancy that touch the core. Silvia's latest album "Buscando Violeta" was met with acclaim when on tour in Chile, marking the recent 100th anniversary of her birth.
---
Nearest station: Rotherhithe Overground
Buses: 381, C10, 188, 47
Info: tel 07595 154601
Join the mailing list: tunedin.london@gmail.com
Tuned In London on Facebook
On Twitter @TunedInLDN
tunedin.london on Instagram
Privacy policy Terms and conditions