TUNEDIN.LONDON
LIVE MUSIC in the film world's best kept secret:
SANDS FILMS STUDIOS, 82 ST MARYCHURCH ST, ROTHERHITHE, SE16 4HZ
and this series will close with one special performance in:
ST MARY'S CHURCH, ST MARYCHURCH ST, ROTHERHITHE
Tickets: £14
Come early/stay late for stronger beverages in the local pubs!
SPECIAL GIVE-AWAY:
For this new series the purchasers of the first 80 tickets sold online will have their names put in a hat and will be in with a chance of winning a CD by fantastic klezmer band Don Kipper who performed with us in March. See them again live for their album launch on Fri 22nd June at Wilton's Music Hall.
APRIL - AUGUST 2018
---
NAMLO
Wed 18th Apr, 7.45pm (doors 7.15pm), Sands Films
Bringing beautifully melodic and emotional instrumental interplay, candid voices, and an alluring mélange of folk rhythms, NAMLO unfurls nuances of the musical multitude of ethnic Nepal. Their songs delve into Himalayan landscapes and villagers' folklore from across the region. This year the Nepali New Year falls on 14th April: expect a festive beginning to the series!
---
NOGABE RANDRIAHARIMALALA
Thu 10th May, 7.45pm (doors 7.15pm), Sands Films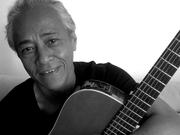 The syncopated, polyrhythmic "salegy" and "tsapika" styles of traditional music of his native Madagascar are a feature of Nogabe Randriaharimalala's music. His "spotless, bell-clear tone is matched by a dazzling agility and liquidity that a million bedroom singer-songwriters could only dream of" Womad 2009. African, Asian and European cultures and music styles have co-existed for centuries on the island to form an unusual melting pot that has produced many beautiful melodies with a style that is utterly unique.
Nogabe Randriaharimalala on Youtube
---
"CUBA LONDON LOLA"
Wed 23rd May, 7.45pm (doors 7.15pm), Sands Films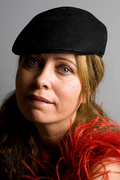 Lola, Spaniard firmly settled in London, travels to Havana to imbibe first-hand Havana's magical music scene and Cuba's political system; over several visits she lives such intense personal & professional experiences that the result is the writing of an album and the creation of a provocative fusion performance of Flamenco, Latin & Pop that combines songs with monologues in an impressive & original way.
"Cuba London Lola" video promo
---
ERROL LINTON
Wed 6th Jun, 7.45pm (doors 7.15pm), Sands Films
Brixton-born Errol Linton is three times Best Blues Harmonica player. "This gifted bluesman is one of London's greatest undiscovered talents." (Independent). Chicago Blues, South London lyrics, reggae lilts hinting at his Jamaican roots: Errol is back again with his full band, this time with "Packing my Bags", a shiny new album under his arm. This harmonica wizard is also a singer, a songwriter, a painter and hero of the London Underground, where he played his unique and highly original blend of blues for two decades!
---
LAS HERMANAS GARCIA
Thu 14th Jun, 7.45pm (doors 7.15pm), Sands Films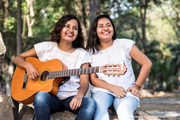 Las Hermanas García, two young sisters from a village on Mexico's Costa Chica, have become a Spotify sensation in just over a year since their first album was released. With velvet voices, they sing the old bolero love songs that travelled the world in the 1950s and which they have been listening to since they were born. Today they play rock festivals and village fiestas and have now been baptized by the local media as "the new voice of the Mexican bolero."
---
Fête de la musique: BELCIRQUE
Thu 21st Jun, 7.45pm (doors 7.15pm), Sands Films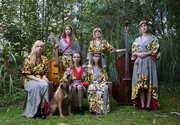 With inventive vocal harmonization & acoustic instrumentation, this all-female six-piece from Belgium, Belcirque, brings a unique blend to the stage: quirky dance moves & playful mimicry, original compositions spattered with elements of swing, pop, barbershop and musette...and their timing is perfect in more ways than one: 21st June is Fête de la musique in both Belgium and France - a huge nationwide extravaganza celebrating music in all its shapes and forms. The songs they sing, in both English and French, entice the audience into the far reaches of their absurd, happy and colourful world.
---
DAI AND THE RAMBLERS
Wed 4th Jul, 7.45pm (doors 7.15pm), Sands Films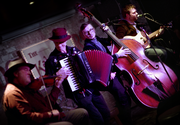 In a special US Independence Day show, Dai & his band explore the rich musical heritage of New Orleans and the deep South. Combining original songwriting with outstanding seat-of-the-pants musicianship, they are "An indie-Cajun gumbo of spirited R&B goodness... they ramble with self-assured, all-acoustic abandon" (Songlines Magazine).
---
DOUBLE BILL: BAHA YETKIN and "THUMBELINA", A MUSICAL FAIRYTALE
Wed 18th Jul, 7.45pm (doors 7.15pm), Sands Films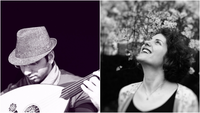 Fantastical encounters lead Thumbelina to faraway lands where she finds the meaning of freedom & true love. A Hans Christian Andersen tale brought to life in a one-woman show by Egyptian-German singer-composer Merit Ariane, through song from Europe to the Middle East, referencing Sephardic folklore, Gershwin, Darwish and Montsalvatge. This follows Turkish oud-player Baha Yetkin, virtuoso of the Turkish Makam, a constantly evolving music form from Istanbul's 13th century, one of the world's great music traditions.
---
KOSMOS ENSEMBLE: Album Fundraiser Special!
Wed 1st Aug, 7.45pm (doors 7pm), St Mary's Church, Rotherhithe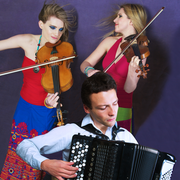 Kosmos redefines the relationship between classical and world music. Gypsy, Scottish, Jewish and Greek music glide into hot-blooded Tango and Japanese melody, referencing classical composers including Brahms, Dvorak and Sarasate, performed with "telepathic rapport, dazzling virtuosity, serious scholarship, intellectual curiosity and impeccable musicianship". Richard Morrison, chief music critic, The Times. They are Harriet MacKenzie (violin), Meg Hamilton (viola) and Milos Milivojevic (accordion) and proceeds from this concert with go towards the funding of their next album.
---
Nearest station: Rotherhithe Overground 2 mins
Buses: 381, C10, 188, 47
Info: tel 07595 154601
Join the mailing list: tunedin.london@gmail.com
Tuned In London on Facebook
On Twitter @TunedInLDN
tunedin.london on Instagram
Sands Films
Privacy policy Terms and conditions