TUNEDIN.LONDON
LIVE MUSIC from all around the world in Rotherhithe, one of the least trodden and most charming neighbourhoods of central London:
SPECIAL GIVE-AWAY: For this new series the purchasers of the first 80 tickets sold online will have their names put in a hat and will be in with the chance of winning a CD - which one we will be confirming shortly!
SEPTEMBER - DECEMBER 2019 - full programme to be announced soon!
LONDON KLEZMER QUARTET - 10th Anniversary Special!
Wed 25th Sep, 7.45pm (doors 7pm), City Hope Church, 121 Drummond Road, Bermondsey, SE16 2JY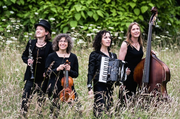 LKQ brings you klezmer at its most beguiling and seductive: the subtleties of the original tradition, their own inventive arrangements & original tunes, a breathtaking dynamic virtuosity, all combined with a kick-the-chairs-over ability to get you up on your feet. What these all-female original band members have created over the last decade assures that "the tradition is safe in the hands of the next generation" Sunday Times and has filled venues throughout the UK, around Australia and many countries in between several times over. Undoubtedly they're "one of the best purveyors of the music of Eastern European Jewish heritage" ABC Radio National. Melancholy and celebratory joy abound. Come celebrate!
London Klezmer Quartet's website
---
Nearest station: Rotherhithe Overground
Buses: 381, C10, 188, 47
Info: tel 07595 154601
Join the mailing list: tunedin.london@gmail.com
Tuned In London on Facebook
On Twitter @TunedInLDN
tunedin.london on Instagram
Privacy policy Terms and conditions